Products




Aluminum Shutters
Homeowners today have a large number of options available to them in window treatments. Depending on their personal taste, homeowners can choose from blinds, shutters, curtains and a wide number of other types of options. However, over the years, shutters have remained one of the most popular options. When one mentions shutters, wooden shutters first come to mind. However, today there are several different types of shutters available to home owners to choose from that have their own advantages.
Those who are looking for shutters that are low maintenance and inexpensive should definitely consider aluminum shutters since these are one of the most functional and affordable shutters available in the market today. Traditionally, shutters were made out of wood. However, wooden shutters need quite a lot of care and maintenance. Also, these shutters are very widely used today by plenty of homeowners. If you are someone who likes to stand apart from the crowd, then aluminum shutters Toronto can help you do that.
Aluminum Shutters - Stand Apart from the Rest
If you want a new look for your home then you might want to consider aluminum shutters Toronto since these aluminum shutters are absolutely modern and they are long lasting. These shutters would be able to withstand all the natural elements for years and they would keep your home safe. With aluminum shutters, your maintenance and replacement costs would be considerably cut down.
One of the best things about aluminum shutters Toronto is that they stand apart from the rest. If you want your home to be different from the rest and want to achieve a modern, contemporary look, then aluminum shutters would suit your style perfectly.
The Different Choices Available in Aluminum Shutters
Like all the other types of shutters, you would be able to find plenty of different styles in aluminum shutters Toronto. You would be able to find styles like the Bahamas style and colonial styles in aluminum shutters. One of the best things about aluminum shutters is that they are very sturdy and long lasting. They would be able to provide you great protection. Not only do they provide you with immense control over the amount of sunlight and wind entering your home, but they would also provide you with immense privacy.
There are dozens of different colors and textures available in aluminum shutters Toronto so you can choose something that matches with your existing decorating style. With these shutters you never have to worry about chipping, warping or peeling or even have fear of termites or insects since these are made from strong and good quality aluminum.
Though wooden shutters would always be considered traditional and popular, aluminum shutters would be able to provide you better protection from storms and strong winds. Aluminum shutters are also very reasonably priced. You would be able to change the entire look of your house even when you are on a tight budget. With the high quality of products that are offered by us, you do not have to worry about replacing your shutters for a very long time.
Sun Project Toro Aluminum Shutters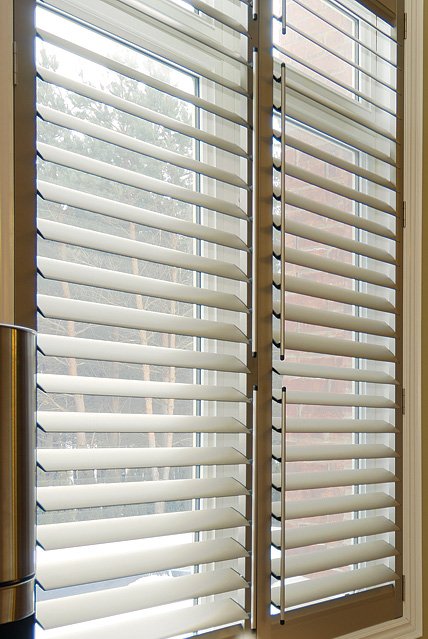 There are several different types of aluminum shutters available today for those who want a clean, contemporary and modern look for their home. The sun project toro aluminum shutters Toronto offer you plenty of style without compromising on the quality.
These amazing shutters make use of reinforced louvers which are engineered in such a way that they allow taller and wider panels. However, they still maintain a very contoured shape and look refined and elegant. Also, with these shutters you would be able to enjoy a clear, beautiful view. Learn More...
Aluminum Exterior Shutters
Aluminum shutters are increasingly becoming popular with homeowners because of their durability and low maintenance requirements. These shutters are used not just as interior shutters but also as exterior aluminum shutters Toronto.
There are not many types of materials which would be suitable for use as exterior shutters since these shutters would be exposed to harsh climatic conditions and weather for an extended period of time. Learn More...