Products



If You or Someone You Know Is Looking For Window Covering... But Is Concerned About The Quality, Options And Selections Available, We Have What We Believe Is The Perfect Solution For You.
The Latest Window Fashion for Shutters in Toronto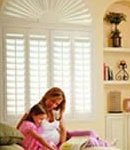 Welcome to the world of Amazing Window Shutters. Amazing Window Fashions provides the latest fashion Shutters in Toronto. This is the one stop for you to get instant access to dozens of brands providing Shutters in Toronto. In North America, and now in the rest of the world too, shutters are considered to be the most popular method of window treatments because of their great looks and the effect they have on any space. Shutters in Toronto can transform the look of any room, no matter what type of look you are striving to achieve in your room.
We offer a wide range of choices for Shutter Toronto which includesWood shutters, Vinyl Shutters, Aluminum Shutters, Composite shutters and exterior as well as interior Shutters in Toronto. Amazing Window Fashions provide you with the revolutionary line of shutters in Toronto like Plantain Shutters Window Treatments and California Shutters. These amazing Polywood Shutters in Toronto never chip, split, crack or warp so you get the full value for your money.
The best thing about these shutters in Toronto is that they are all available at a reasonable price so that you can dress up your home even when you are on a budget. We are the exclusive authorized manufacturers and distributors in Canada for Polywood Window Shutters. With the amount of innovations which are today available in the world of shutters Toronto, we strive to always provide our clients with all the latest options available in shutters Toronto. You would be able to choose from a wide range of custom design styles for your office or home so that you get the exact type of shutters Toronto that you are looking for. We manage to stand apart from our competitors because of the selection of shutters in Toronto that we provide you.
Quality is always top notch with Amazing Window Fashions & Shutters and therefore we are very widely sought after. We provide you with the type of cleanliness and elegance that you would rarely find with shutters Toronto specialists.
Why choose shutters from Amazing Window Fashions?

When you are choosing shutters in Toronto, Amazing Window Fashions Inc. is your best choice since we are an authorized manufacturer of PolyWood window shutters in Canada. The Polywood shutters that we manufacturer are superior to aluminum shutters, wood shutters and vinyl shutters. These shutters in Toronto give you the kind of elegance that you are looking for when decorating your home. Amazing Window Fashions is proud to introduce Polywood shuttersin Toronto that are not just attractive but are also very versatile. Let the experts dress up your windows.
Pollywood Shutters are made from a synthetic wood substitute which is made from all natural gas byproducts. These shutters Toronto are fire as well as moisture resistant and they are durable as well as easy to clean. Unlike the normal vinyl shutters, these shutters are solid and offer the look for real wood but they do not warp or crack. Polywood Shutters have won plenty of awards and is a revolutionary product which is considered to be the best in the market. Amazing Window Fashions provides you with a product which is elegant as well as easy to maintain.
View Some of The Brands Amazing Window Fashions Represents...